Beijing Dongshun Bowang Petro-Machinery Co.,Ltd is one of the professional oil drilling equipment manufacturers in the petro-machinery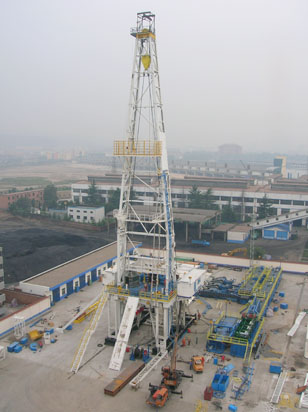 field of China, with excellent competitive strength in technology, the complete and perfect research and development base for the localization for the petroleum technical equipment, and authentic import-export operations right and with plenty of import-export experiences.
The products of our company include ten series, more than 100 types ,mainly as following----1000m-4000m truck-mounted drilling rigs, 1000m-7000m skid-mounted drilling rigs,1000m-4000m trailer-mounted drilling rigs, 20T-225T onshore workover rigs, ,3000m-7500m well-logging equipment, 500KN-700KN heavy-duty trailers, top-drive unit, mud pump, petroleum special vehicles and wellhead tools
The company consists of research institutes of technical center, quality inspection center, manufacturing branches for metal working, steel-structure, assembly, spray painting, one comprehensive drilling equipment proving ground, one overseas company and two joint ventures.
The plant has set-up technology research & development center, Information Center, Measuring and Testing Center. Equipped with ERP, PDM, 2-dimensional AutoCAD M6, and 3-dimensional Inventer 8、SolidEdge vll etc. And the large-site structure analysis software such as auxiliary design software, CAPP, and ADINA ANSYS and so on. The software, such as the "Huazhu CAE" simulation software on foundry and concreting process and the design software for gear and so on, is brought into design to make the calculation, analysis, research and development computerization.
The company has established complete quality assurance system, which has been certified for ISO9001:2000 Quality System Certification. Our company designs and produces products that meet the standard of API and has complete HSE (Health, Safety and Environment) system.
Featuring the "Customer-oriented" concept, self-supporting mechanism, and perfect service institute, our company carries out the star-level service and valuable service along the full process of pre-sales, on-sales, and after-sales.
Our company's business has covered the domestic oilfield , and its products have already been exported to more than 20 countries and areas in batch such as America, Czech Republic , India, Egypt, and Turkey.